Bronze on Granite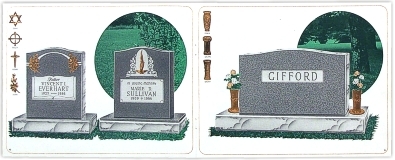 Series: (D735B - D765B) Selection includes upright monuments, contemporary and traditional shapes, wing/vase style monuments, individuals, markers (slants, bevels, flats) in blue/gray black red and pink granites -- all shown with bronze attachments.
Online Catalog: Complete design series available online.
Book/Catalog: 11 x 8 1/2"; glossy soft cover; 36 glossy pages with 31 monument designs with more than 75 additional bronze attachments, 9 bronze lettering options and 15 bronze vase options. Features a looseleaf size and specification sheet. Ideal for closing sales and creating specifications and finalizing orders with monument manufacturers.
Brochure/Pamphlet: Not available (book only)
Individual Glossy Prints: Not available (book only)
Software: Not available (book only)
Additional Information: For information on bronze pieces shown in our Bronze on Granite book visit Strassacker Bronze, 144 Edgecombe Road, P.O. Box 931, Spartanburg, SC 29304, Phone (864) 579 2579, Toll Free (800) 424 7544, Fax (864) 579 7196.
**This book is not a publication of Granite-Bronz, Inc. a Mennesota Corporation. The items offered for sale in this book are in no way associated with any of the products distributed or sold by Granite-Bronze, Inc., a Mennesta Corporation.