Memories Etched In Stone (Laser Edition)
Series: (D301-D377 & D7301-D7774) Laser etchings - one color and full color. Displays etchings on monuments and includes extra photos. Selection includes companion monuments, and family monuments, in contemporary shapes, as well as markers, ledgers and optional photos. Themes include the Cross, Mary & Praying Hands, Nativity, Crosses, Jesus, Crucifixion, Angels, Wings, Saints, Jewish, Buddhist, Flowers, Music, Dance, Team Sports, Fishing, Golf, Hunting, Winter Sports, Horses, Rodeo, Racing, Camping, Cars, ATV, Cycles, Leisure, Public Safety, Animals, Veterans, Scenes, Travel, American West and more.
Brochure/Pamphlet: The monument industry's newest retail sales brochure features 474 photos and 77 monument designs in black and white and color - making it the most versatile sales tool for the fastest-growing area of retail monument sales. This series is available for you and your customers in our online catalog, brochures and catalogs. Laser files are available for etching after your customer makes a selection. Brochures are full color, measure 26 1/4" x 15" and are folded to fit a #10 envelope. Custom imprinting with company name and logo is available.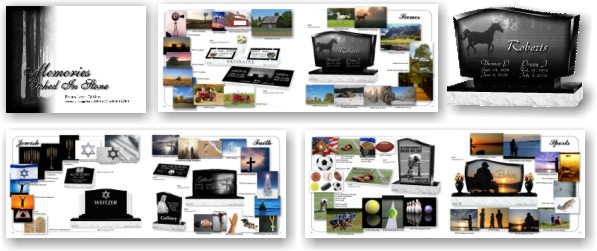 Book/Catalog: The 48 page 11" x 8 ½" glossy catalog features larger displays of all the content shown in the brochure, and it includes suggested sizes for all monuments shown. All etchings and photos are conveniently grouped by theme, making the selection process much easier.

Individual Glossy Prints: Contact Design Mart to check availability.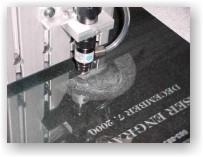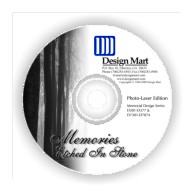 Software: All images featured in the Memories Etched In Stone - Laser Edition are available for use with your laser system. Use the file numbers shown in the brochure, book or online catalog to identify your selection, and use the online catalog to check size and resolution. Photos are in original form, giving your artist the freedom to edit, customize and add effects.
Online Catalog: The Complete design series is available online.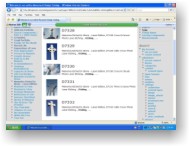 You and your customers can log on to our new online catalog and view all 474 photos and 77 monument designs. You can use it in your office or your customers can make their selections from the comfort of home and contact you with their choice. It's ideal when your customers are in other cities or states - just let them choose from your online catalog.
Click here to download a PDF brochure.