D-Mart Color Kit 3.0
With Design Mart's Color Kit 3.0, you can add vibrant colors and textures to your drawings for customer approval. You're using the same files that cut stencil, so your customer is seeing exactly what the monument will look like after the monument is finished.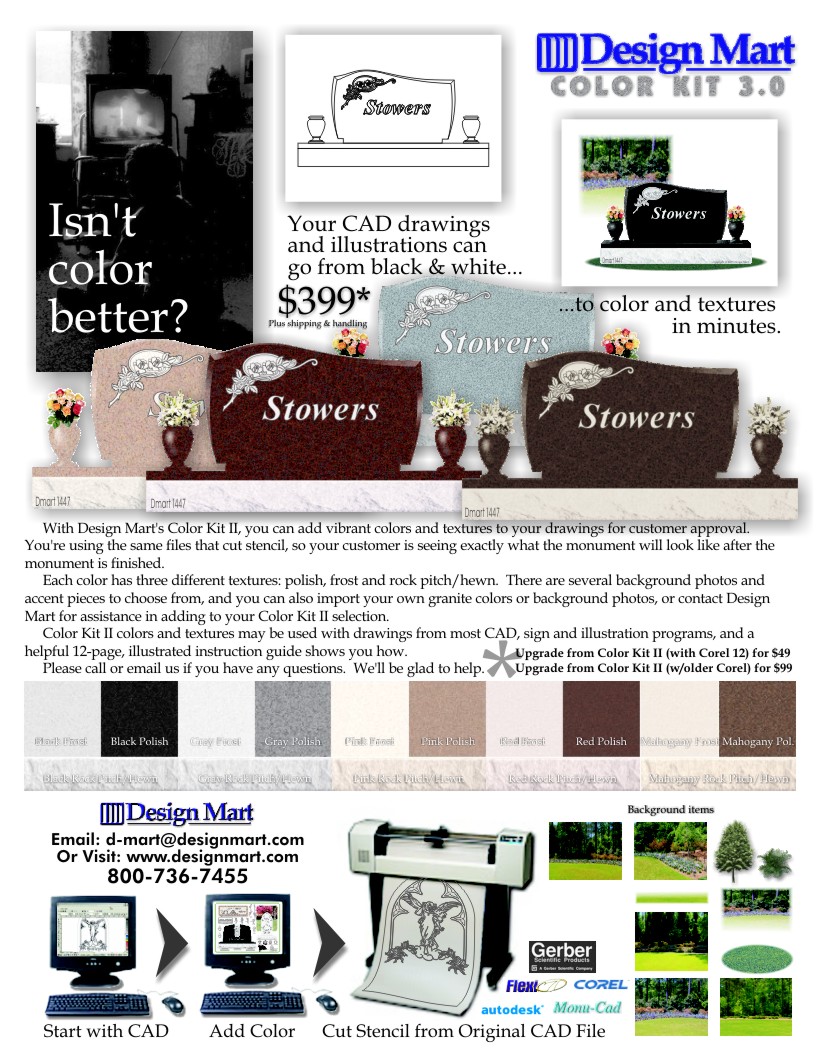 There are five granite colors featured: Blue/Gray, Pink, Red, Black and new Mahogany. Each color has three different textures: polish, frost and rock pitch/hewn. There are several background photos and accent pieces to choose from, and you can also import your own granite colors or background photos, or contact Design Mart for assistance in adding to your Color Kit III selection.
Color Kit 3.0 colors and textures may be used with drawings from most CAD, sign and illustration programs, and a helpful 12-page, illustrated instruction guide shows you how.
Please call or email us if you have any questions. We'll be glad to help. In fact, at times, Design Mart's studio has special offers and can color your custom designs to show you what Color Kit can do for you. Please email d-mart@designmart.com to ask about any free trial offers. Just a few of the drawings are shown below. These were emailed as wireframe vector/CAD drawings, and they were sent back as colorful JPGs.

Cutomer Testimonial!
Retailer in Florida & Customer in England Reach a Decision Before Noon with Color Kit 3.0
Recently Brian Couture from Groveland, Florida contacted Design Mart with a unique request. A customer in England wanted a vertical monument, but the cemetery required a horizontal one. The cemetery also required black litho, but the customer wanted gray. Neither the customer nor the cemetery could imagine how these changes would look, but they wanted to reach a decision before dinner time in England.
Brian Couture purchased Design Mart's Color Kit to use with his Monucad system, and soon he had emailed his British customer two color renderings to compare. The cemetery was able to see that gray litho would look good, and Brian's customer was able to see that the monument design would translate into a horizontal format with no problem.
Price is $399 plus $12.50 shipping & handling. Upgrade from Color Kit 2.0 (with Corel 12) for $49 plus $12.50 shipping & handling. Upgrade from Color Kit 2.0 (w/ older Corel) for $99 plus $12.50 shipping & handling. Upgrade from the Original Color Kit for $149 plus $12.50 shipping & handling. 
Please email or call for more information. We'll be glad to discuss the many options that can help you cut your own stencil.