Allen's Model 536 is an industry exclusive, providing both sprocket and friction drive material handling. Its sprocket drive system is engineered specifically to meet the precision tracking demands of users processing sandblast stencil. Stencil cut quality is assured through its unique "tangential emulation" allowing the 536 to cut perfectly square corners in rubber stencil.
The 536 comes equipped with Allen's exclusive Gold Touch II cutting head, which has an unbelievable 100 steps of digitally controlled force. Gold Touch force selections are adjustable from 5 grams up to 550 grams, the most versatile in the industry! You not only get superb sprocket capability that adjusts from 15 inches up to 36 inches, but you also have the versatility of friction feeding material of all types, from 5 inches up to 36 inches wide.
There's no compromise with the 536's full function control panel, either. All cutting parameters are easily set up using a simple 2 to 3 key sequence. The industry's best pouncing is also standard on the 536, with 100 selections for both hole size and spacing, another Allen exclusive!
The Model 536 delivers precision, reliability and high performance…whatever the application. Price $9,795*. (Does not include sales tax, setup, training or shipping and handling.)
*Prices are subject to change from the manufacturer.  Please email Mike at d-mart@designmart.com or call him at 800-736-7455 to be sure the information you see here is current.  Thank you.
Gerber cutters are excellent machines, but we've heard of a number of drums melting after a few years. Drums may be replaced or machines may be traded in on a new one. Allen Datagraph cutters offer the accuracy of track/sprocket feeding without the worry of a rotating rubber-coated drum that may melt unexpectedly.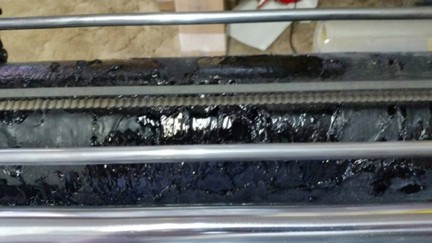 When drums melt they melt fast, and render the cutter useless. Stencil sticks to the drum and the knife completely penetrates the stencil in some places. When removing and replacing the drum be careful to wear gloves to avoid having tar-like rubber on your hands.
Helpful information for Omega 5 and Allen 536 only:
Once you install the Omega and Plotter here are Step by Step Instructions below.
1) Open Gerber, click on HELP at top right ,go to "check for updates" Once updates have been run, or you get a message saying you are running the latest version, you can then close Gerber.
2) The next thing you have to do is double click on the zip file, the once it unzips, click on the "Use slow draw key" file. You'll get a warning saying these types of files may be harmful, but click yes to continue, and you'll get a message saying the registry has been updated.
3) Open Gerber Omega and select something to cut.
4) Go to File, Print, and select the Allen cutter from the device name drop-down window.
5) Click on output tab at top of page
6) Click on WIREFRAME
7) Click on NO SCALING
8) Click preferences to save for that device.
9) Click OK to send to cutter.