Cremation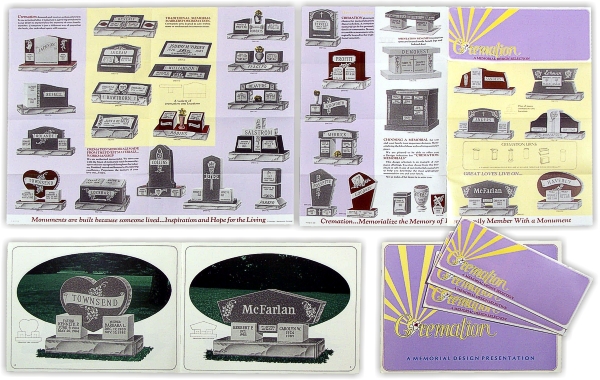 According to the National Funeral Directors Association 30.88% of deaths last year resulted in cremation, and the number is projected to grow to more than 50% by the year 2025. While some people who choose cremation prefer to have their ashes scattered or placed in an urn, there are a great number of people who still choose a granite memorial for the placement of their ashes.
Some people prefer a monument because it provides a sense of place for the family, and it can also provide an alternative where part of the family wishes to be cremated and another may choose traditional burial.
Design Mart's "Cremation" series (book, brochure and CD) offer alternatives for families who have members who are choosing cremation yet still want a place for other family members to visit or be buried later.
Series: (D8000C - D8036C) includes monuments that have cores or storage spaces for placement of urns. Most of these cores are located in the bases of the monuments, or, in some cases, in the monuments themselves. There is a variety of bevels, flats, slants, hearts, crosses, horizontals, verticals, benches and columbaria in traditional and contemporary styles. Each page contains a technical drawing that shows the placement of urns for manufacturing.
Online Catalog: Complete design series available online.
Book/Catalog: 11 x 8 1/2"; glossy soft cover; 36 glossy pages displaying 37 monument and vase/urn designs in blue/gray granite. Each design has an identification number and a looseleaf size/specification sheet is included for easy ordering from granite manufacturers. Ideal for closing sales and creating specifications and finalizing orders with monument manufacturers.
Brochure/Pamphlet: 18" x 14"; glossy finish; features 37 photo-realistic monument and vase/urn designs. Ideal for generating awareness with pre-need or at-need direct mail or in-office use. Fits #10 envelope. May be personalized with company name, logo, etc.
Individual Glossy Prints: Contact Design Mart for current prices and availability.
Software: Most designs available in AI, CDR, DWG, DXF, EPS and PLT formats for Gerber Graphix Advantage/Omega, Corel Draw, Flexisign, Signlab, Casmate/Inspire, MonuCad, AutoCad, Illustrator and more. Individual designs may be ordered via e-mail. Series may be ordered on CD ROM. Click here to learn more about software. Contact Design Mart for design availability and prices.
Online Catalog & Monument Designer:  The Cremation monument series has been added to the Online Monument Designer & Catalog, which creates color proofs, and exports cut files to all popular CAD and illustration programs.  Scroll below to learn more.
The Online Catalog makes it easy for those who don't want to design a monument to browse and search for the design they like. Monuments may be viewed by type, family name, Dmart number, and more.
The Online designer features all of the designs from all Dmart books and brochures. The Designer makes it easy to browse and select a monument for personalization.
The Online Designer allows work in full color for proofing. Files can then be exported for use with Gerber, Illustrator, Corel Draw, Gerber, MonuCAD and more.
Designs may be imported into Gerber, and many other program by saving an AI (Adobe Illustrator) file.