When performing updates this summer, our team just happened to notice that more than 50,000 unique monuments had been designed and stored in users' Dashboards.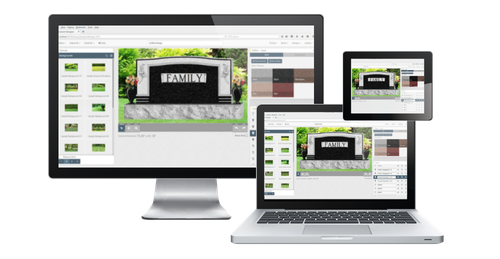 While we often hear success stories, we had no idea that retailers and families had come to rely so heavily on the Online Designer & Catalog to help with the memorialization process.
Each of these 50K+ creations have two files associated with them. There is a color image for printing or copying and pasting into a contract as well as a CAD file that may be imported into any application for stencil cutting, including Gerber, MonuCad, Cochran, Corel, Illustrator, WinPC, and many more. Our CAD export capability is unique among online monument design tools, and eliminates the need for CAD operators to try to match images seen in a color image or draw a time-consuming matching design from scratch. The CAD file is revised by simply clicking and dragging in front of the family, reducing the number of additional appointments when a matching drawing finally comes back from your granite supplier.
Beginning with version 2.0, laser etching images became available with high resolution output, so an artist doesn't have to search for a photo or artwork that looks somewhat similar. Families want what they see on the screen, and with version 2.0 it only takes a click to retrieve the laser-ready file. These etchings have transparent backgrounds, which means that users may easily build custom scenes by pulling scenes apart and adding new trees, mountains, streams, animals, and much more.
The fact that the Online Designer is cloud-based means users can access their work anywhere at any time. Users do not have to be in front of a PC or CAD program in a back room. They may work from a showroom, outdoor display, cemetery or an office to create and customize monuments that can be sent to any CAD or photo editing application. All of a user's work is saved on the cloud and can be opened and edited at any time. Virtually any device may be used including phones, iPads, tablets, laptops, and desktops. All major browsers are supporting including Microsoft Internet Explorer, Microsoft Edge, Google Chrome, Firefox, Safari, and Opera.
Try it free for 30 days! If it has been a while since you tried the Online Monument Designer & Catalog, and you would like to check out all the new upgrades, please give us a call. We'll get a little info, and set it up for you. Come back again and see what's new. We'll also be happy to connect with you remotely for tech support. Feel free to email us at d-mart@designmart.com or call us toll-free at (800) 736-7455 if you have any questions or would like a live demo. We look forward to hearing from you!