Free Brochure Imprinting:
During January we are offering free brochure personalization on any order of 250** brochures.

Choose from the wide variety of titles shown here. There are 27 different titles from which to choose - from older, classic brochures and matching catalogs to newer, more colorful, contemporary selections. All you need to do is select the brochure that's right for your company, email your logo or text for your brochure cover, and we'll take care of the rest.
* Please order by January 31. These specials end on January 31, 2019 without exception.
** Only orders of 250 of one title may be imprinted. Offer applies to a single order of 250 per customer.
McNeel Collection:
The McNeel book is normally $499.00, but through the end of January we're offering it at a special price of $299.00. The price will return to $499.00 February 1, so don't miss your chance to have this 336-page book at your fingertips when it's time to search or browse for benches, ledgers, columns, wings, rare memorials, crosses, markers, statues, sundials, mausoleums, and more.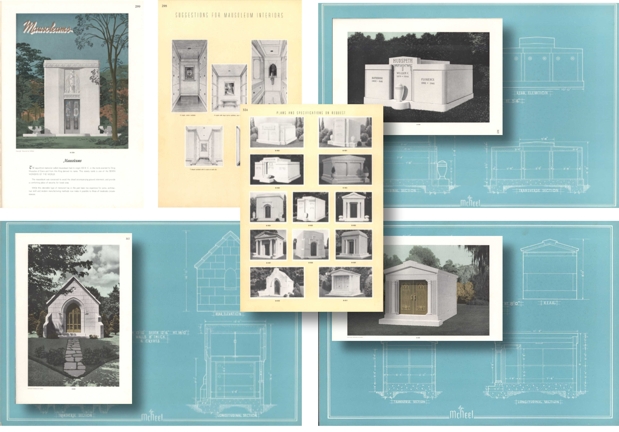 A few of the mausoleums and blueprints from the McNeel book.
* Please order by January 31. These specials end January 31, 2019 without exception.
To take advantage of these specials or get more information on any of Design Mart's brochures, books, software, Online Monument Designer, Online Monument Catalog, or custom web sites please visit www.designmart.com, email d-mart@designmart.com or call 800-736-7455. We look forward to hearing from you!