Elbert Memorial Hospital
Elberton, GA
Quarterly Newsletter
Design Mart worked with Word Express, Inc. to create the design and name for the new Foundation newsletter. Word Express provides text, and Design Mart provides the design expertise. Several excellent concepts were presented before the Foundation chose this one. Issues are published quarterly.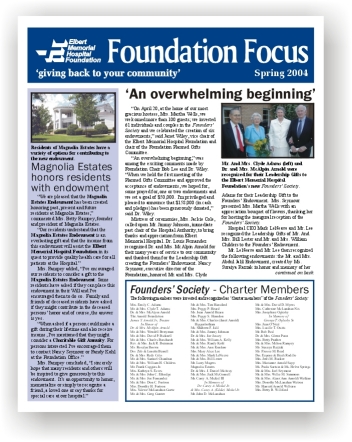 Hospital & Physician Directory
Design Mart's staff interviewed physicians and other staff each quarter. Each issue featured approximately 16 articles written by Design Mart. All photos, logos and graphics were generated in-house. No stock photography or clip art was used in these unique publications. Design Mart also handled printing and distribution to a circulation of more than 30,000 readers.