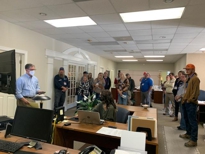 Each year the Elberton Granite Association offers an intensive course for monument retailers that covers virtually every aspect of monument sales and production. Design Mart was happy to provide one of the courses on monument design and symbolism with an in-office software and sales orientation followed by a visit to historic Elmhurst Cemetery.
This year's class was attended by 22 retailers from from 12 states, representing 17 retail monument companies.
While in Elberton from November 1st - 5th the class visited quarries, manufacturing plants and industry suppliers of various products and services.
Design Mart appreciates the time and expense these retailers are investing in themselves and in the industry, and we look forward to staying in touch with them.